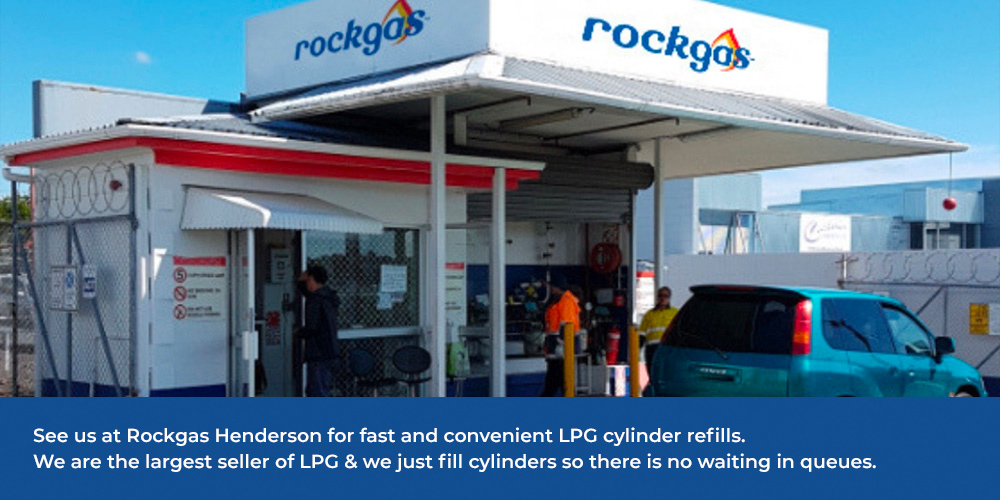 We are located at 37 Bruce McLaren Rd, Henderson
We make re-filling your LPG cylinder easy. We have bottles for all types of businesses, BBQ's, camping and leisure.
We have a specialist drive through operation to quickly refill your LPG bottles and we can handle any size from 2kg to 27kg cylinders.
Plus ask about our Loyalty Card which gives you a minimum $2 Discount on every second 9kg bottle fill.
Come and see our local friendly team at 37 Bruce McLaren Rd in Henderson.
Our convenient hours are Mon – Fri, 9am to 6pm and every Sat 8am to 1pm.
Need LPG for your business?
We can supply in whatever way best suits your needs and location. If you are a business needing regular supply then use our online enquiry form. Or, if you need to talk it through, give us a call on 0800 762 542 on the best options for you.
FAQ's
What size bottles do you fill?
We can fill most cylinders from 2kg to 27kg capacity.
We do not fill primus cylinders without the companion on/off attachment OR single use disposable cylinders. (ie if there's no valve to shut-off the gas supply we can not fill)
For 45kg bottle refills please call 0800 762542
What hours are you open?
Hours
We are Open Mon to Fri – 9am to 6pm & every Sat – 8am to 1pm.
How should I transport my LPG cylinders?
All cylinders should be transported upright and with the valve turned off. If you have a cap that goes over the valve, this should be used.
Do you deliver?
We deliver 45kg cylinders, call us on 0800 762 542.
What do I do when I can smell gas?
If you smell gas, you should immediately turn the cylinder off at the valve. We recommend you use gloves to prevent a cold burn. Soapy water sprayed on the valve or your connections will produce bubbles when it contacts with gas. This will give you an idea where the leak is coming from.
What do I do with damaged or old LPG cylinders?
Expired Cylinders
We can not fill expired cylinders, use what gas remains in the cylinder then these can be swapped at most petrol stations.
Damaged/Unsuitable cylinders
We will accept damaged or unusable cylinders for disposal.
Can you partially fill a cylinder
Yes, speak one of our staff when you arrive to discuss options available.
---